Next film: Tuesday 2nd June at 8PM  Exhibition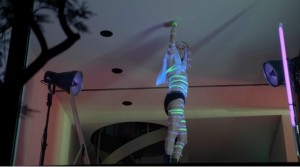 Joanna Hogg (Unrelated, Archipelago) explores middle class, bohemian life in contemporary Britain in what critics have acclaimed is a brilliant and sensual film. A pair of fifty-something artists, D and H, are taking stock of their lives, deciding to sell their modernist, glass box of a London home, which they have shared for the last twenty years and on which they have clearly lavished great attention, and money. Now is the time to face difficult conversations and choices which, up to now, have been avoided.. … read more
2015/16 season 
The Film Selection Committee met on Thursday 14th May to select the films for next season – we had 58 members returning the selection forms and the most popular choices make up more than half of the final selection – thank you everybody for your input.  Details for the next season will be posted on the web shortly.
For the 3rd season running, Membership for the 2015/16 season has been held at £50. Details of how to join will appear shortly on our membership page.
Our last presentation 'Fruitvale Station'
37 members and guests returned feedback forms following the showing of this film, the breakdown was as follows:
'Excellent':  14 votes
'Very good': 20 votes
'Good': 1 vote
'Satisfactory': 1 vote
'Poor': 0 votes
+ One comment left without a rating
Read the audience feedback on this film
If you want to add further comments on this film, you are welcome to do so by joining in on our "Fruitvale Station" discussion forum.
Your opinion counts
As well as filling in the Feedback forms following the showing of each film, you can leave comments for any of the films via the Discussion page.
CFC on Twitter and Facebook
To receive regular, automatic notification of our films, why not follow us on either Twitter or Facebook.  Both can be accessed via the side panel on the right.
See what else Chelmsford Film Club is showing this season on the 2014/15 season page.  This page links through to pages for each of the films we are showing this season, which will be updated throughout the season with the Film Notes and Member feedback. Or visit the archive pages for details of past seasons.