2014/15 Season Membership: £50 – JOIN TODAY
Friday 28th November: Quiz night 
Our annual quiz night will be at Moulsham Mill on Friday, 28th November, starting at 7:30, teams can comprise of up to 6 people.  As well as the main quiz there will be a raffle and spot prizes.  Tickets are £5 per person and can be purchased from Karen at the door on the night.
Next film: Thursday 11th December at 8PM
Wadjda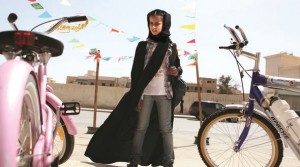 The first feature to be filmed in Saudi Arabia by a woman, Al-Mansour makes forceful points about her country's gender politics within a story that's simple and unassuming. Wadjda, a ten-year-old girl in a world dominated by men, wonders if life could be different. Causing great anxiety for her poor mother, she wants money to buy a bicycle, in defiance of tradition, and so enters a Qur'an reading contest at school with a cash prize. A funny, romantic, simple and accessible tale, told with grace, warmth and clarity, but with an implicit, cutting political edge. … read more
2014/15 Season Membership
Membership for this season is £50 (which works out at just £2.78 per film – if you attend all 18 films).  Please send an email to enquiries@chelmsford-filmclub.co.uk for an application form.  Alternatively, you can join at any one of our screenings at the Cramphorn Theatre. Please visit our membership page for full details.
17 members and guests returned feedback forms following the showing of this film, the breakdown was as follows:
'Excellent': 5 votes
'Very good': 5 votes
'Good': 2 votes
'Satisfactory': 1 votes
'Poor': 4 vote
Read the audience feedback on this film
If you want to add further comments on this film, you are welcome to do so by joining our Blue Ruin discussion forum.
Your opinion counts
As well as filling in the Feedback forms following the showing of each film, you can leave comments for any of the films via the Discussion page.
CFC on Twitter and Facebook
To receive regular, automatic notification of our films, why not follow us on either Twitter or Facebook.  Both can be accessed via the side panel on the right.
See what else Chelmsford Film Club is showing this season on the 2014/15 season page.  This page links through to pages for each of the films we are showing this season, which will be updated throughout the season with the Film Notes and Member feedback. Or visit the archive pages for details of past seasons.