2014/15 Season Membership: £50 – JOIN TODAY
Next film: Monday 10th November at 8PM
Paths of Glory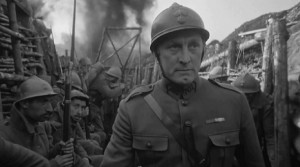 In what is arguably Kubrick's finest film, which would announce all the themes underlying his future work, from A Clockwork Orange to Full Metal Jacket, all the horrors of the First World War are shockingly portrayed. A general orders a suicidally pointless attack on a German stronghold. After the inevitable fiasco, three men are chosen by lot to be tried and executed. Tough old soldier Drax (Kirk Douglas), disgusted with his superior's arrogant incompetence, attempts to defend them. Re-released for the 1914 centenary. … read more
Commemoration for the start of WW1
As part of the Mayor of Chelmsford's charity fund raising this year in support of the Royal British Legion, a bucket collection will be taken at the end of the film, which is being shown to mark the centenary of the Great War.
You may like to note that the Workers' Education Association will also be screening the film at the Cramphorn on November 11th.
2014/15 Season Membership
Membership for this season is £50 (which works out at just £2.78 per film – if you attend all 18 films).  Please send an email to enquiries@chelmsford-filmclub.co.uk for an application form.  Alternatively, you can join at any one of our screenings at the Cramphorn Theatre. Please visit our membership page for full details.
39 members and guests returned feedback forms following the showing of this film, the breakdown was as follows:
'Excellent': 8 votes
'Very good': 9 votes
'Good': 7 votes
'Satisfactory': 1 vote
'Poor': 1 vote
Read the audience feedback on this film
If you want to add further comments on this film, you are welcome to do so by joining our discussion forum.
Your opinion counts
As well as filling in the Feedback forms following the showing of each film, you can leave comments for any of the films via the Discussion page.
CFC on Twitter and Facebook
To receive regular, automatic notification of our films, why not follow us on either Twitter or Facebook.  Both can be accessed via the side panel on the right.
See what else Chelmsford Film Club is showing this season on the 2014/15 season page.  This page links through to pages for each of the films we are showing this season, which will be updated throughout the season with the Film Notes and Member feedback. Or visit the archive pages for details of past seasons.