**NEW** 2015/16 Half Season Membership just £25 – JOIN TODAY
The Cramphorn Theatre, Chelmsford – Thursday, 18 February @ 8PM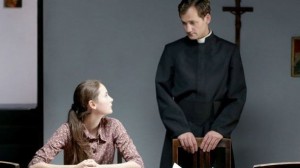 A young woman is determined to offer her life to God. Maria (Lea van Acken) prepares for her confirmation with other young people. Their church belongs to the Society of St. Paul, which rejects the liberalisations of the 2nd Vatican Council, holding to the Latin mass. Maria decides that she must endure the 14 Stations of the Cross, as Jesus did on the path to Golgotha. The fictitious Society is based on the real Society of St. Pius X that the German director and his sister/co-script writer had experienced. (read more…)
Coming soon
Half Season Membership now available 
As we have now reached half way through the 2015/16 season, the Membership for the remainder of the season has been reduced to £25 (which could work out as low as £2.78 per film, if you manage to attend all 9 remaining films). Membership forms can be downloaded from our membership page or, alternatively, by emailing enquiries@chelmsford-filmclub.co.uk.
Our last presentation 'Of Horses And Men'
We had 44 members and guests returned the response slips following the showing of this film, the breakdown was as follows:
'Excellent':  19 votes
'Very good': 16 votes
'Good': 5 votes
'Satisfactory': 2 votes
'Poor': 1 vote
+ 1 comment submitted without a grading
Read the audience feedback on this film
If you want to add further comments on this film, you are welcome to do so by joining in on our "Of Horses And Men" discussion forum.
Your opinion counts
As well as filling in the Response Slips following the showing of each film, you can leave comments for any of the films we have shown via the Discussion page.
CFC on Twitter and Facebook
To receive regular, automatic notification of our films, why not follow us on either Twitter or Facebook.  Both can be accessed via the side panel on the right.
See what Chelmsford Film Club is showing this season on the 2015/16 season page,  or visit the archive pages for details of past seasons.